Discover the Benefits of Orthodontic Treatment With Invisalign ®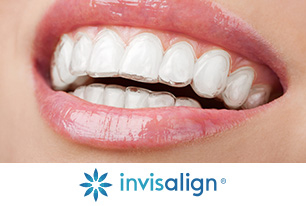 Clear plastic aligners have revolutionized orthodontic treatment. For patients with unevenly spaced teeth, misaligned bites, tooth crowding, and other like issues, there are certainly many ways to both improve smile aesthetics and balance out bite forces. However, among them, only Invisalign is completely free of annoying wires and brackets. With Invisalign aligners, patients can enjoy flexible, adaptable treatments from start to finish. Moreover, they can eat what they want, and continue smiling confidently all throughout the treatment process.
Invisalign Aligners Are Totally Transparent
Invisalign are clear, plastic aligners that are designed specifically for the individual patient's mouth according to individual treatment goals. With Invisalign, the progress of tooth movement is accurately tracked. Moreover, rather than having brackets or wires tightened, people simply replace their old aligners with new ones when the time is right. Best of all, much like the name implies, these clear braces are both capable of moving the teeth to more appropriate positions and completely transparent. For the first time ever, patients can receive aggressive orthodontic treatments while looking completely like themselves. There's no social anxiety to contend with, and the results are just as impressive as those produced by metal or ceramic braces, if not more so. Many of our patients have chosen clear aligners with outstanding results. More importantly, they've enjoyed the journey to straight teeth just as much as they appreciate the improvements that they've gained.
No Sore Lips or Abraded Inner Cheeks
Clear aligners aren't just less conspicuous, they're also far more comfortable to wear. The trays in an Invisalign treatment are composed entirely of high-grade and completely smooth plastic. Whereas metal braces can cause painful abrasions at the inner lips and at the inner cheeks, these trays don't cause any rubbing, chafing, or other forms of friction-related discomfort at all. They do not have any sharp, extruding pieces or edges, and they provide a comfortable, custom fit from end-to-end.
There Are No Dietary Limitations With Invisalign
There's a very extensive list of foods that people cannot eat when wearing traditional wire braces. Chewy taffies, crunchy nuts, and uncut apples are just a few. When those who wear braces want to indulge, they have to cut their favorite chewy, crunchy, or sticky food items into tiny bite-sized pieces first. They also have to spend long stretches of time brushing, flossing, and picking remnants of these foods from their teeth and braces. Conversely, indulging with Invisalign is as easy as taking your trays out. Both your teeth and your aligners can be easily brushed and cleaned before putting your trays back in. Removal and reinsertion are both easy and painless with these systems. They also make it infinitely easier to avoid the dental decay, gum disease, and other oral health issues that many brace-wearers face when their oral hygiene is lacking. You don't have to brush or floss around sharp, worrisome extrusions, or worry about trapped particles causing problems. With clear braces, patients can avoid embarrassing mouth odors, tooth discoloration, unfortunate build-ups of plaque, and sore, irritated gums. When you choose clear braces, your teeth and soft tissues will thank you.
Fewer Office Visits
Invisalign trays only require maintenance approximately once every six-weeks. This means that you'll spend far less time in our office than if you opt for wire braces, ceramic braces, wire braces with elastic bands, or any other alternative orthodontic appliances. In fact, for many patients, these treatments can be significantly shorter overall. With a customized, data-driven, tooth realignment plan, you can reach your cosmetic goals in seemingly no time. If you don't have a lot of time for regular office visits and want a nearly set-it-and-forget-it solution, this is definitely the right treatment for you. Even upgrading your trays to account for gradual tooth movement is always a simple, hassle-free process.
Many of our patients have put orthodontic treatment off over the years due to fears about how they might look once braces have been applied. Innovations in orthodontic treatment have made it easier and more comfortable for people to straighten their teeth at any age. Countless students and professionals are using clear aligners to boost their confidence, improve their looks, and enhance the overall efficacy of their bites. No matter what your orthodontic or cosmetic goals may be, Invisalign is the clear choice.
I have never encountered a more professional, knowledgeable and compassionate medical or dental staff. Whether cleaning, crowning or filling my teeth, none of which are my favorite things to do, they kept me informed, helped me relax and skillfully performed these services.
I found it so refreshing that both doctors were great listeners. I'm now out of pain and can again eat on both sides of my mouth without worry. Thanks Grace Dental!
Grace Dental has some of the nicest staff I have ever come across at a dentist office. I like the way they keep me informed as they perform each dental procedure. Just their whole attitude, no matter what you come in for, helps you relax!
Address
12611 Antioch Rd
Overland Park, KS 66213
Hours
Monday, Tuesday
8 AM - 5 PM
Wednesday
8 AM - 6 PM
Thursday
8 AM - 5 PM
Friday, Saturday
Cosmetic Appointments Only
Request an Appointment or Contact Us
Hi, I'm Val! Call me at the number below and I'd be happy to help schedule a time for you to visit us, or answer any questions you may have!